What's the "best" car seat?
Child restraints sold in the U.S. must pass Federal Motor Vehicle Safety Standards. The "best" car seat
achieves a safe installation in your vehicle
fits your child's height, weight and development
is easy to use correctly every time
1. What type of car seat should your child use?
There are different types of child restraints for the different stages of a child's development. Rear-facing, forward-facing in a harness, and belt-positioning booster seat. Don't "graduate" from one stage to another before your child reaches the maximum height or weight of each type of seat.
Rear-facing Only Infant Seats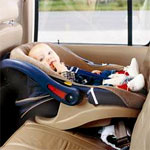 All have a handle to carry the baby and a base that stays in the car. They are ONLY used rear-facing (RF). Most fit babies who are between 29–32 inches tall and 4-30 pounds or more. Check seat labels for specifics. The 5-point harness spreads crash forces, holds the baby down into the seat shell and prevents ejection. Look for a model with an up-front harness adjustment system. Up front adjusters make it easier to loosen and tighten the harness each time you take the baby in and out of the seat.

5-Point Harness
Two shoulder straps, two hip straps, one crotch strap
.
Advantages: a carrying handle, portable, can be used to rock the baby, attaches to strollers and lifts off a base that stays in the car.
Disadvantages: you must purchase a convertible car seat when the baby reaches the upper weight limit of the car seat or when the baby's head is within one inch of the top of the seat.
Convertible Car Seats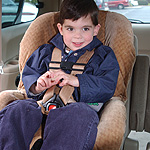 Use rear-facing in a reclined angle then convert into an upright forward-facing seat.
Many now permit rear-facing (RF) use (the safest way to ride) from 5-40 pounds. Check weight and height limits on seat labels.
Forward-facing upper weight levels of 65 or more pounds and up to 40 or 52 inches have become more common. Convertible seats have a 5-point harness system (two shoulder straps, two hip straps, one crotch strap).
Advantages: Only purchasing one seat. In general less expensive when price is compared to length of time seat will be used.

Disadvantages: RF requires more room in vehicle due to recline angle, can't carry it into the house with a sleeping baby. No sun shade or attachment to a stroller, and some may not fit a newborn infant as well as an infant seat.
Forward-facing Car Seats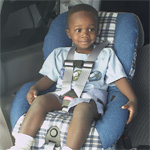 Forward-facing (FF) "combination" or "harness to booster" seats are used only in the FF direction and never for a child who is not yet at least one year of age and 20 or more pounds. Most FF car seats by become belt-positioning booster seats when the child reaches the weight or height limit for harness use.
Belt-positioning Booster Seats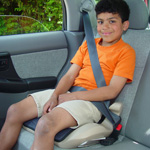 Just as you wouldn't ask your child to wear your jeans or shoes, their body is not yet developed enough to properly wear the adult seat belt.
Use a belt-positioning booster (BPB) to properly place the shoulder and lap parts
of the adult seat belt on a child who has outgrown their forward-facing child car seat by height or weight.
Whenever possible, try before you buy. Choose a style that holds the lap belt low across the hip bones touching the top of the thighs and adjusts the shoulder belt across the center of the shoulder. Have the child lean forward, then back. The shoulder belt should spool out as it does for an adult, then retract easily without leaving any slack.
There are two types of belt-positioning booster seats
High-back: When choosing manufacturer's instructions. Some models require the vehicle seat be tall enough to completely support the height of the booster. Many have a removable back to accommodate the body of an older child.

No-back booster seat: If your child sits on a vehicle seat with a head restraint then a no-back/backless booster seat can be used. Some no-back booster seats have a strap or clip that adjusts the shoulder part of the belt properly on the child's shoulder. Most no back booster seats require the child weigh at least 40 pounds and some add "at least 4 years of age".
2. Does the child restraint fit your child?
Check the car seat owner's manual for height and weight limits and make sure the seat will accommodate your child's future growth.
If your child is likely to be tall or heavy for their age, be sure to choose a seat that will accommodate their comfort (width) and safety (adequate harness slots and seat height).
3. Does the car seat fit your vehicle(s)?
First, adjust vehicle seats for the driver and front passenger. Can the child restraint be properly installed without compromising safety of those in the front seat?

If installing a rear-facing infant or convertible seat in a rear seating position, assure the proper angle of recline can be achieved (per manufacturer's instructions).

Does it hang over the front edge of the vehicle seat? Is this allowed by the manufacturer? How much of the child restraint can extend beyond the edge of the vehicle seat?
When using a seat belt to install the child restraint, it must be long enough to be threaded properly through the car seat and be buckled.
If the webbing of the buckle end of the seat belt is too long it may prevent a tight installation and may cause discomfort to the child if it rests behind their back.
If trying to place two or more child restraints onto the same vehicle seat, is there enough room for each one to have its own space? Or does one interfere with another?
4. Is the seat easy to use correctly every time?
Choose a car seat with features such as the harness tightener and buckle mechanism that are easy for you to use, so you'll be more likely to use it correctly every time.
Choose a car seat that is easy for you to install and has directions that you understand.
5. Does the child restraint fit your budget and lifestyle?
If you are going to move the car seat between vehicles often, choose one that fits both vehicles and is easy for everyone involved to install.
You don't have to spend several hundred dollars on a child restraint to achieve optimum safety. A properly installed restraint is more important that the cost of the restraint. Will purchasing two less expensive seats be easier than moving one seat between two vehicles?
If you fly often you may want to consider a smaller, light-weight seat.